Urban Yoga Fest & The Bohemian Collective
2020 dates coming soon
3 DAY SCHEDULE
FRIDAY "BATTLE OF THE TACO" 7-9pm at Steam Horse Brewing 3 TACOS & 3 BEERS $20
3 Chefs: Javier Laurie, Paul Odell and Taco Architect Ricky from Zipitios Mesoamerican Fusion
2 Yoga stages, Balance and the City Panel presented by Surterra Wellness, Kirtan Sounds, Live Music by Sierra Lane, and Sound Healing
Bohemian Collective. Boho Lifestyle Market featuring: Shibori by the Sea, Jessie Bear, DoTerra, Karola Hawk, Surterra Wellness, EAU Spa, Juana de Arco, Earth Angel Readings, Red Tent Henna, Her Best Foot Forward, Get Flaunted,Tracey Winn Wellness, Yoga 4 Change, Sacred Spaces Fl, Gypsy Life Surf Shop, Spiritual Warrior, Namaste as F*ck, 4 Elements, Cannera Wellness, Lakshmic Jewelry, Authentic Hemp Company.
Urban Workshops: Aromatherapy with DoTerra and Drop In Meditation by Keegan.
Plant Based Food Bites: Meraki Juice Kitchen, Fullei Fresh, and Zipitios.
Health: "The Doctor is In" with Dr. Michelle Weiner.
Schedule for Sunday The 3rd - Grandview Public "The Living Room area"
10:00am Welcoming Yoga Class with Maki Criscaut
11:30 Boho-Summer '19 Trends Fashion Show curated by Gypsy Life Surf Shop
12:00 Inspirational Talk by Guest Speaker - Holly Nelson - Resurface and Breathe
12:30 Boho Beauty class: How to Braid Hair - Demo
Urban Yoga Fest's Teachers
Friday's Live Performance by Ella Herrera
Saturday's Live Performance is singer and song-writer Sierra Lane
Saturday Kirtan Sounds
by Keegan
Sunday's Guest Speaker
Holly Nelson - Resurface and Breathe
Holly Nelson is a women's empowerment advocate, author, speaker, and successful business owner specializing in apps, branding, and marketing strategy for socially responsible businesses. The daughter of two missionaries, Holly grew up in Haiti and the Dominican Republic where she cultivated her heart for helping others by translating for medical professionals and scrubbing into surgeries as young as 14. She received her bachelor's in Biology with a Concentration in Chemistry from Palm Beach Atlantic University with the goal of attending medical school. However, her senior year in college she became the victim of sexual assault, which had a drastic effect on her. During her gap year, she made the decision to not pursue her medical degree and decided to learn about digital marketing and social enterprises.
She began building her business and produced campaigns for clients such as the Miami Animal Shelter in conjunction with Sting's Daughter, Hannah Shaw, Merton Capital Partners.
The Bohemian Collective Market
Stay Tuned… we will be raffling Magic of I Moon Calendars during the month of January and at the festival 2.2.19
12 illustrated cards with dates, moon phases, moon signs, eclipses, sun sign changes and Mercury retrograde and direct dates, to stay in tune with the cosmos. Each month the colours change with the seasons through out the year. Comes with a reference guide.
FIND YOUR BLISS IN THE CITY
As the world urbanizes with more than half of the world's population living in the city, a mindful living its critical. Welcome to Urban Yoga Fest and the Bohemian Collective. A lifestyle for the ones who are passionate about the environment, urban wellness, and the future of the community we live in. We design experiences to awaken your curiosity towards a mindful lifestyle in the city.
We create blissful experiences in the city
Urban Yoga Fest & the Bohemian Collective is an inspiring festival of like-minded people and ideas who gather to experience a high vibrational lifestyle. The Bohemian Collective is encompassed of thoughtfully curated vendors such as artisans, musicians, yogis, speakers and one-of-a-kind shops that transform the city into a free-spirited urban experience. Learn about your star signs, crystals, sage smudging, plant-base living, meditation and much more.
Thank you to our Partners!
Previously on Urban Yoga Fest...
URBAN YOGA FEST MIAMI 2018
MIDTOWN GARDEN CENTER WYNWOOD 01.13.18
"⭐⭐⭐⭐⭐
It was amazing I was completely relaxed the aura the energy of it all the meditations the sessions the crowd the view of the garden it was wonderful I look forward to it again"
— Marie A, Urban Yoga Wynwood Attendee
U108 2018 Festival's Crystal was AVENTURINE comforts, harmonizes, and protects the heart. Green Aventurine is known as the good luck stone and is often used in rituals with green candles, or kept in cash boxes or drawers to attract money. Meditation and crystals were provided by Stephanie from Crystal Vision.
"⭐⭐⭐⭐⭐
Thank you @urbanyogafest for putting together such an extraordinary event, we look forward to the next one "
— Midtown Garden Center.
LUCKY 13 WYNWOOD EDITION
asanas

mantras

life/leadership tools

eclipse blessed jewelry

bohemian bandanas & apparel

yoga gear

astrologers

astral card readers

henna

crystals charged with power for 2018

medicinal cbd

wellness speakers

power bars

and more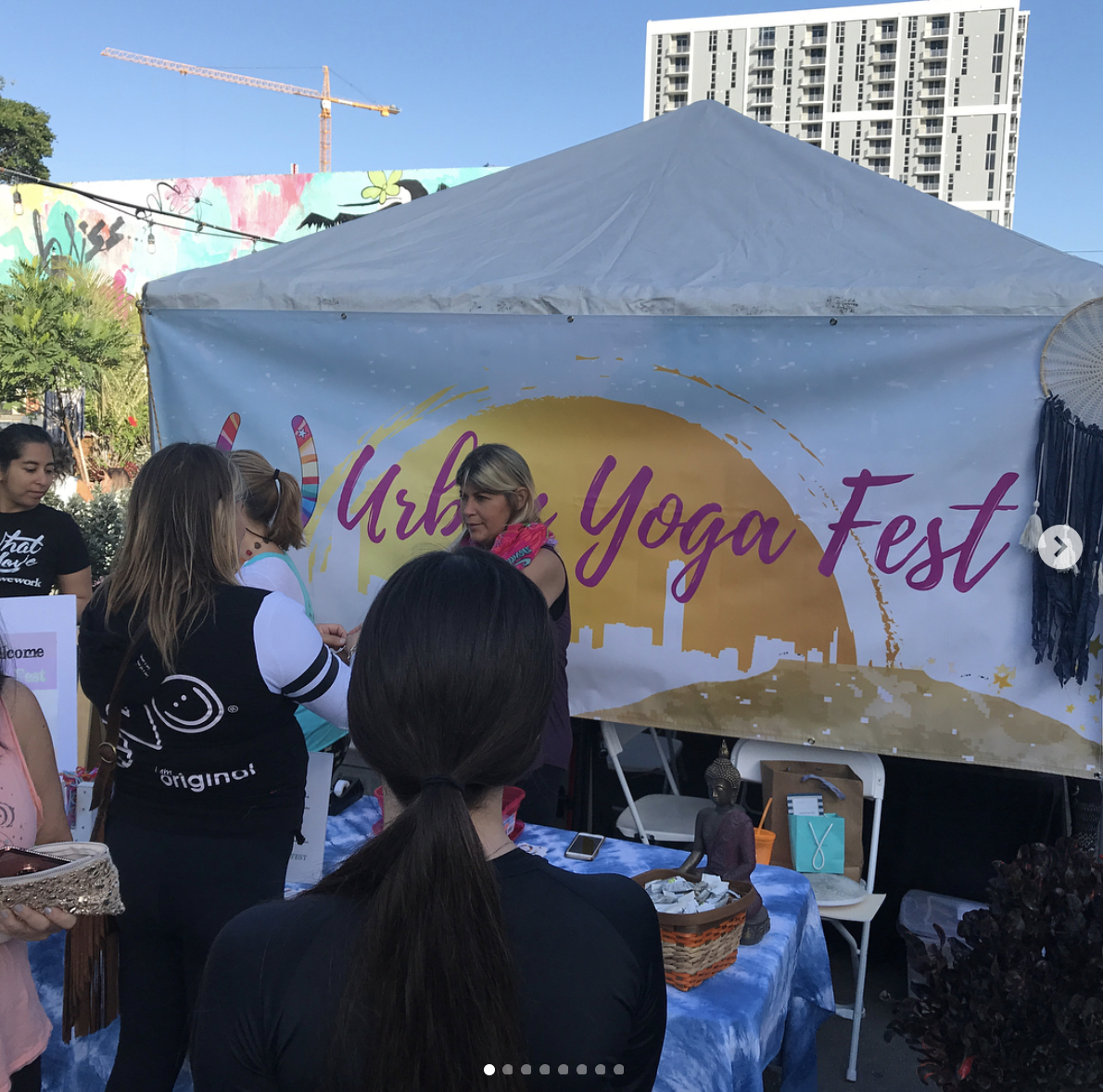 URBAN YOGA FEST HOLLYWOOD 2017
DOWNTOWN HOLLYWOOD 02.04.17
In Gratitude to Our Previous Partners
Is a multi-genre publication that has merged yoga, conscious fashion, culture, women's issues, career, luxury and budget friendly lifestyles, social awareness and festival lifestyle articles into one.